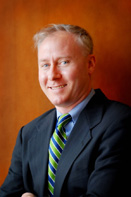 Cory Muller is a seasoned consultant with a specialty in data analysis and pattern recognition. Prior to joining Purisolve in 2007, he was an Associate with a large mid-Atlantic-based firm, specializing in business intelligence solutions primarily within federal government agencies.
Cory has also held positions with a major Southeastern bank and securities firm in MIS, management reporting, sales, portfolio and new product analysis, and portfolio management. He has over 10 years of experience in data-rich environments, including over 6 years in the Federal Government space. His work with past clients has led to higher yields and lower overhead costs, resulting in millions of dollars in savings.
At Purisolve, Cory is primarily focused on workflow analysis, workload planning, historical data analysis, business tool design and integrates closely with Purisolve's technical team members.