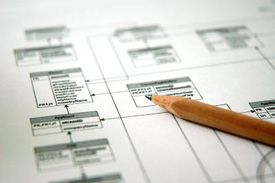 Purisolve has a core competency implementing business intelligence services for our clients.  This includes data analysis business intelligence maturity assessments, BI tool evaluation, and performance measurement calculations and dashboarding.  Our unique ability to perform data hypothesis generation and testing on any size data set can help drive business decisions.
Too many business decisions are made without understanding the data behind the decision. Purisolve can help collect, mine, and analyze your datasets to find patterns, correlations, and ultimately conclusions that help make an informed business decision.
Purisolve uses a unique, methodical approach to using organizational data to develop conclusions that help drive better business decisions. Our step-by-step approach includes:
Check Data Integrity: Once we have collected data through systemic queries or data collection instruments, we work closely to understand all parameters, variables, and values unique to the data set. We perform a gap analysis to identify missing information and can extrapolate values to fill in these gaps. We also validate the expected values to determine where data integrity may be compromised so that the subsequent analysis will not be skewed.
Develop Hypotheses: Our team generates hypothetical scenarios for which patterns or conclusions may be evident in the data. These hypothetical scenarios are documented and an action plan is developed as to how to test the hypotheses using various analytical tools available.
Test Hypotheses and Analyze Data: Data can be analyzed using regression techniques that will determine the correlation between multiple variables. This is important for demonstrating cause-effect relationships. Our team also uses Standard Query Language (SQL) to generate probabilistic outcomes and common patterns within the data. We are able to summarize the data and generate matrices of outcomes using SQL or Excel to test the hypotheses generated.
Refine Hypotheses: This step is an iterative process that is performed in conjunction with the data analysis as new insights are found within the data. A new or revised set of hypotheses can many times be generated and tested that will generate more informed conclusions.
Draw Conclusions: Our team develops reports which demonstrate common patterns and relationships within the data and outline the conclusions and implications that may require business decisions or changes to improve revenue or reduce expenses.
Our consultants are experts at evaluating an organization's BI capabilities and need, and we can develop a roadmap for improvement. As part of the journey to BI maturity, we can conduct BI tool evaluations to map business needs to systemic capabilities. The Purisolve passion is to infuse a BI prowess within organizations to enable better decision making and performance tracking that will allow continuous improvement.